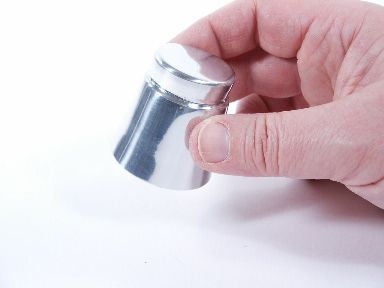 Circa 1970's Rings N Things Mini NM Chop Cup, This is a seldom seen miniature chop cup produced one time only by Rings N Things standing only 1 3/4 inches high with an inside mouth diameter of 1 9/16 inches. For more about this and many other goodies visit our Apparatus Auction page.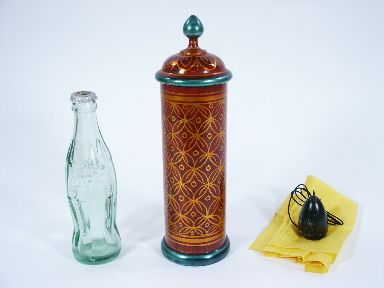 1960's Tayade Silk In Bottle with Original Bottle and More, This is one of the original beauties from the 1960's, made of wood and beautifully hand decorated and lacquered having a unique design that sets it apart from other apparatus. With this comes the original coke bottle and the coke bottle cap is stamped Bombay Calcutta. Also included are 2 Rice Silk King Studio Silks in yellow and a P&L Pull for the vanish of the silk. For more about this and many other goodies visit our Apparatus Auction page.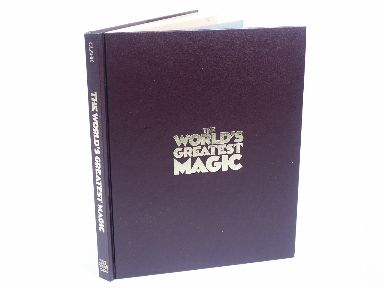 Deluxe Autographed Collector's Ed. World's Greatest Magic, Hyla Clark. 1976, Hard bound with Gilt stamping, 208 pages with many photos and illustrations from the past. This is a very special edition as it was made as a Collectors' Edition Numbered and Specially Bound having the Signatures of the then living Professionals within. One of the absolute best Autograph books to have as the list of signatures reads like a who's who of magic. The names include *Tomsoni *Siegfried & Roy *Dai Vernon *Shimada *David Copperfield *Slydini *Derek Dingle *Doug Henning *Al Goshman *Richard Ross *Kreskin *Channing Pollock *Mr. Electric *Johnny Paul *Maurice Fogel *Mark Wilson *Dick & Diana Zimmerman *Norm Nielsen *Randi *Flip *Glenn Falkenstein *Carl Ballantine. For more about this and many other goodies visit our Auction Books and Periodicals page.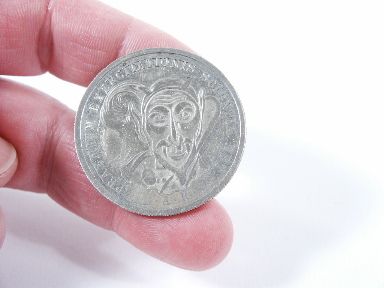 August Roterberg Token 37.5 MM, In nickel Silver and one of the more ornate tokens for a collection. For more about this and many other goodies visit our Auction Memorabilia, Ephemera and Posters page.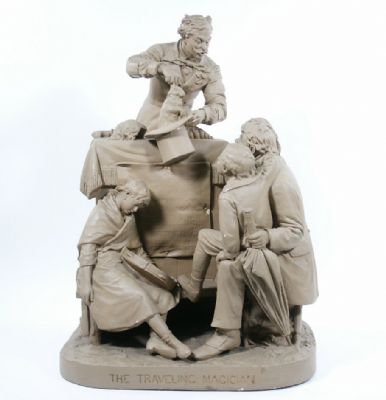 1877 The Traveling Magician Egyptian Hall Museum, Of the many great images of the performance of magic we enjoy today, whether in the form of colorful lithograph posters, photographs or the artful design in fine apparatus and other statuary The Traveling Magician has no equal by its romantic and classic depiction of a bygone era. Not all that many exist from the time of its release some 133 years ago and the ones that do reside in collections as a centerpiece and a matter of pride in possession. This particular Traveling Magician has special significance as it sat on display off to the side in the magnificent collection of David & Virginia Price, known all over the world as Egyptian Hall Museum with numbering label still affixed to the base at the back of the piece. For more about this visit our Auction page.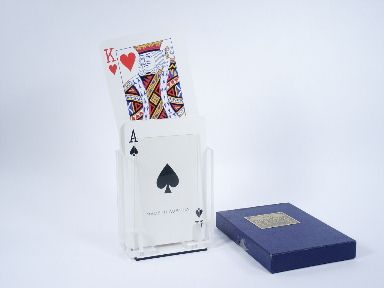 Original Anverdi Rising Cards, After the performer places a jumbo deck of cards in this clear houlette of plex he walks away and standing several feet away commands cards to rise up out of the deck having complete control at all times. This is one of the more popular Anverdi items and a very magical effect indeed For more about this visit our Auction page.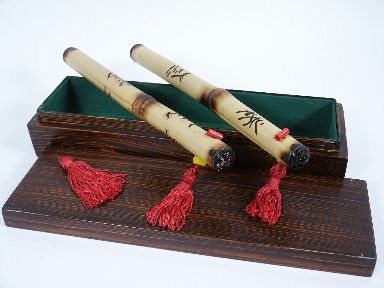 Original Loyd's Bamboo Wands Scarce, Seldom do you see a nice set of these wands come along from Loyd and this set in a lined wooden case. One end tip that closes the bamboo appears to have had a break and glued. These wands function really fine and an extra tassel is included. Measures 12 3/4" with a 1" diameter. Includes 2 pages of instructions with Loyd storyline. A scarce hard to find Loyd item from circa 1940. For more about this visit our Auction page.

**KT Magic Auction Alert**
Click here to join our mailing list and receive auction updates.

Or use the QR code to join our mail list.

***Coming Soon!***
Get ready for all the magic goodies.
www.ktmagic.com/auction/
The collection these items are from is quite varied in scope and somewhat sizable in volume with European origins. Within this auction you will find a good many items, some the likes of which you may not have seen before.
In the coming months this collection will continue to be auctioned. Give yourself plenty of time for all we will have to offer!
www.ktmagic.com/auction/
No Buyer's Premiums Charged! Enjoy the Auction!
This is a standard auction format with no proxy bidding which means the bid you enter is what will automatically show and be taken as what you are going to pay if you win the item. The system also allows for you to increase your bid amount if this is a bidding method you wish to use. This process is also helpful in reaching a reserve amount. Shipping/Insurance charges are in addition to winning bid amounts. What you will not have at the end of the auction is the addition of Buyer's Premiums that can range from 15% to 25% and more.

www.ktmagic.com/Auction/

Please tell your friends. Good luck in your bidding and enjoy the Auctions! As always, with KT Magic Auction, all items are in house and personally handled so you may bid with confidence. With KT Magic No Buyers Premiums are Charged!
Happy Bidding! Kenna
---
I would like to bring my work I have been doing on gathering information on the Taytelbaum book to a close. So I ask that if anyone has been holding back to please make that call and contact me with what you have. If you have any props you think I might be interested in, please let me know as I am ready to purchase!



Welcome to KT Magic! We are a business for Quality Pre-Owned Conjuring Apparatus, Books and anything pertaining to Magic. Auctions, Collecting, Buying and Selling anything pertaining to magic. We offer monthly auctions so please check in often and you may register for our auction to receive notices or subscribe to our mailing list. KT Magic Auction We accept all major credit cards, paypal, checks and money orders. On occasion we will have items for sale which we feel are of merit. Special List In most cases, the magic, books, posters and other conjuring items we offer are one of a kind collectibles. Although we try to update this site daily as items are sold, there is always the possibility that an item will be gone when you order it from our special list. Your order will be confirmed by e-mail when it is received and if an item is not available you will be notified immediately. Please note: you will receive a response from us within 48 hours. If you do not hear from us please call (859) 689-7080. Thank you.
Visit our How To Order page for Special List ordering information. Auction Participation information is located under our Auction Membership page Link.